---
Posted by Website Admin on
---
Choosing the most jaw droppingly beautiful Pacific Island beach is not an easy job. But if you were to close your eyes and imagine a pristine, tropical paradise, it's bound to look exactly like one of these 3 beaches on Vanuatu's largest island, Espiritu Santo.

Champagne Beach
Champagne Beach is like the cherry on top of any Pacific Island experience with its icing sugar sand, a crescent-shaped, palm-fringed beach and a coral lagoon.
Set on the northeast coast of the island, Champagne Beach gets its romantic name from the fresh water that bubbles up into the bay. What could be better than a swim and snorkel in the crystal clear sea, followed by a lunch of lobster, freshly cooked by friendly locals.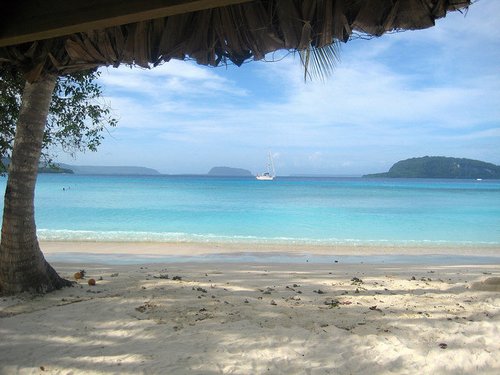 Lonnoc Beach
For 5 star nature we can't think of better. No one can deny the untouched beauty of Lonnoc Beach. Stay in the simple beachside bungalows - it's so tranquil it's as though you have the whole bay to yourselves.
The flawless sand and warm waters are incredible for kayaking and snorkeling with underwater gardens of brilliant live coral and colourful fish - you may even see turtles. And Champagne Beach is just around the point.
Aore Beach
If you're a beach lover, don't miss Santo's Aore Beach. Just a short boat ride from Luganville, it's a magical place to swim, snorkel and sunbathe to your heart's content.
The sweep of white sand and irresistible sea are a picture of tropical island paradise. At night, sit out on the beach looking up at the glittering stars and by day, throw on your snorkel and go play with the wonderful, exotic fish. A must see location.
---
Find more things to do in Vanuatu.
Recent posts
Archives
Categories