There's no better way to explore the Vanuatu island of Santo than at your own pace! With The Espiritu's car rental you also have the assurance of round the clock roadside assistance.
Set yourself free on Espiritu, Santo's newly tar sealed road on the east coast. Visiting Santo's natural attractions such as the Champagne Beach, Blue Holes, Million Dollar Point, Golf Club and the Port Olry Village, has never been easier and more convenient!
Check out our optional equipment hire that are a great idea to combine with our rental car. Forgot your snorkel and mask? Feel like having a BBQ at the beach? We've got you covered with our equipment hire, enquire today!
All our rental cars are manual transmission, air-conditioned and come with unlimited kms. Rental rates are inclusive of the Government Value Added Tax (VAT) and Insurance. The rate you see is the rate you pay!
You may also choose to purchase Insurance Excess Reduction (IER) option which will reduce the excess to 100,000 VT for 1,500 VT per day.
For long term car rentals, please enquire for special rates.
* Please be advised that bookings will only be confirmed with a Credit Card. Debit Visa & Debit Master cards will NOT be accepted. *
Category A - 350,000VT Insurance Excess
2WD SUV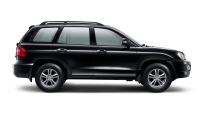 Features
Air-Conditioning
CD Player & Radio
Power Steering
EBS
Central Locking
Per Day
1 Day - 10,000 VT
2-3 Day - 9,000 VT
4-6 Day - 8,500 VT
7 Days+ - Please Enquire
Fine Print
Vehicles are only Permitted on Tar-Sealed road, with exceptions to Champagne Beach, Lonnoc Beach, Port Olry, Million Dollar Point, Blue Holes and the entrances to the various Resorts on the Island. Fuel and Entrance fees not included in rate.